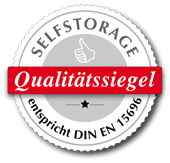 Services for Businesses and Sales Representatives
Are you looking for a small storage unit in Innsbruck? More than 400 businesses are already benefiting from our comprehensive services. For LagerBoxes sized 6 m² or more, we offer a free parcel and goods delivery service. We immediately transport your delivery to your storage room and inform you via SMS when the delivery is received. A paper, cardboard, plastic and wood disposal site directly on site drastically reduces your disposal costs. To improve mobility, transportation aids such as trolleys and pallet trucks are available, and all our rooms are accessible from ground level.
Do you need shelves?
These are always in stock on site and are available for installation in your storage unit!
Heavy-duty shelf - purchase price:
just € 54.00 incl. tax.
Parcel shipping and packaging services with our company
Our comprehensive services for businesses and sales representatives not only include the storage unit but also simplify your day-today business because with us you save time and a trip to the post office.
The benefits of our services at a glance:
You can just leave your shipment/goods in your storage unit. We will do the rest.
Monthly expenses are charged to your employer (in cooperation with your accounting department).
We manage your shipping receipts and take care of any package tracking.
Any order received by 11:30 a.m. will be processed on the same day.
Your shipments will arrive at the recipient's door within 24 hours (in rare cases within 48 hours) throughout Austria. We of course ship to private addresses worldwide.
Do you have questions about storage of your belongings or any of our other services? Our motivated team is available to serve you!