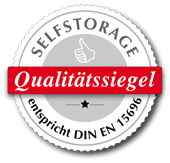 Sizes, prices and payment options
Box
Size
Private (tax-free)
Businesses (incl. tax)

Mini-Box

2 - 3 m²

2 m²
89,00 €
106,80 €
3 m²
109,00 €
130,80 €

Standard-Box

4 - 5 m²

4 m²
129,00 €
154,80 €
5 m²
159,00 €
190,80 €

Medium-Box

6 - 7 m²

6 m²
179,00 €
214,80 €
7 m²
199,00 €
238,80 €

Maxi-Box

9 - 12 m²

9 m²
239,00 €
286,80 €
12 m²
289,00 €
346,80 €
( All LagerBoxes have a floor-to-ceiling height of more than 3 meters!)
Rental prices INCLUDE:
Goods insured for up to € 5000 (supplemental insurance available)
Fire detection and alarm system
Video surveillance and security service
Garbage room
Customer restrooms
Covered loading zone for cars and trucks
Transportation trolleys or pallet trucks available
Protection against rodent damage
Parcel shipping and receiving (for corporate customers)
Staff on site
The listed rental prices are per month; there are no further surcharges
Short-term rentals possible for as little as 1 month
Cancellation with one-month notice
Deposit: 3 months' rent
Conducting any technical or commercial work in storage units is strictly forbidden by local authorities!
Do you need shelves?
These are always in stock on site and are available for installation in your storage unit!

Heavy-duty shelf - purchase price:
just € 54.00 incl. tax.