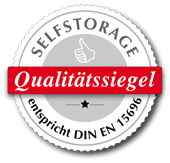 Lease termination
We don't usually know how long a rental will be needed. For this reason, we only record the start date for the LagerBox rental, and the rental agreement is concluded for an "indefinite" period of time. Your LagerBox is available to you for as long as you wish.
Just cancel 4 weeks before the end of your agreement with us. You can do this at the end of the month or in the middle of the month. Just send an email or give us a call, and we will send a confirmation in writing!
Deposit return:
As soon as your storage unit is empty and you have returned the keys, the deposit will be transferred to your bank account.